What makes for an effective brand activation in sports?
Is it that fans hear and see the name of a brand hundreds or thousands of times? That fans know and remember that 'x' brand is the 'official' whatever product or service of the league?
Depending on the goals of the sponsor, those can be laudable objectives. But the best partner activations in sports? They, well, activate the brand. Fans don't just know what brand 'x' does or sells, they know what makes that brand preferable to others and therefore the one fans should consume and give their loyalty.
That's why my favorite brand to watch do their thing in sports is Bud Light. 
Bud Light latches onto the exciting moments in sports, the times when fans are most likely to stand up and high-five their friends. That's what Bud Light wants fans to think of when they think of the Bud Light brand.
How Bud Light Activates their Brand in Sports
This first example is cheating – it's Budweiser, not Bud Light – but it's too good not to mention. Budweiser looked at hockey and thought about those moments when fans burst out of their seats (or couches) and cheer. There is the final buzzer at a win, opening faceoff, big hits, amazing saves, hat tricks — but Budweiser went after something scalable and universal: goals. And, in hockey, goals means the red light going off. So what did they do? They came out with the Bluetooth-powered red light for fans to have at home. The light worked to go off when the fan's team scored. The brand is part of the celebration, enhancing it.
How do you know it's Bud O'Clock? Just wait for the light. 🚨

Watching hockey at home will never be the same. Introducing the Budweiser Red Light, a Bluetooth-connected celebration for every time your favorite team scores a goal. Pre-order yours: https://t.co/eiyuu8elKT

— Budweiser (@budweiserusa) October 13, 2019
Bud Light found another low-hanging fruit that was part of the excitement of scoring goals — the goal celebration. Goal celebrations are a special part of hockey and, again, part of the moments when fans are cheering and high-fiving. Enter the #BudLightCelly. The NHL league account, in addition to team accounts, used the hashtag when posting goals/celebrations on social media.
Henrique sealed the deal in crunch time and gets rewarded with the @budlight #BudLightCelly of the Game! pic.twitter.com/TAwRMde2JK

— Anaheim Ducks (@AnaheimDucks) March 7, 2020
It's not just hockey. Bud Light found the same moment that fit the brand actuation in other sports. In football, the #BudLightCelly happens with every touchdown. When hockey fans think of the excitement of goals being scored, they could think of Bud Light. Now it could be the same with football upon every touchdown scored.
the judges didn't hold back 😂@budlight | #BudLightCelly pic.twitter.com/flVjJ4aEQc

— Los Angeles Chargers (@Chargers) February 7, 2020
Bud Light owned the goals and the touchdowns and – with their XFL activation – became the brand of celebrating after wins. After victories, team social channels were full of #BudLightCelly videos showing players in the locker room spraying and drinking Bud Light. Bud Light was able to associate their brand with celebratory moments in yet another unique but relevant and organic way.
What time is it?? SELTZER TIME 🍻@budlight | #BudLightCelly pic.twitter.com/jeUH6i0tH7

— Houston Roughnecks (@XFLRoughnecks) February 22, 2020
And now, introduced recently as of this writing, Bud Light has seized the repeatable, high five-worthy moments in baseball: home runs. You can see the details below. And this time they're adapting to the unique circumstances of the 2020 Major League Baseball season. They're engaging fans — 100% of whom can only take in the games remotely — and using the carrot of home run balls to fuel a social media sweepstakes. Bud Light is owns the moment of celebration (well, at least for some fans watching).
Bud Light is giving you a chance to take home an authentic 2020 home run ball! Tweet using #BudLightHomers, #Sweepstakes, and tag your favorite team for your chance to win. When fans can catch homers from home, there's a Bud Light there. pic.twitter.com/8RFwwkqKZh

— Bud Light (@budlight) July 23, 2020
There is no shortage of gameday brand activations in sports. But it's instructive to analyze what makes Bud Light's effective and how it can be replicated for other brands. Not every brand can own those celebratory moments like goals, touchdowns, and homers. But to be associated with 'get off the couch and cheer' moments isn't right for every brand.
For years, a lot of sports sponsorships have been reliant on puns. It's the Honda Keys to the Game, the T-Mobile 'Call to the Pen,' the 'XYZ' Gas and Electric Company Power Play. But, think back to earlier in this piece and which objectives those achieve.
We celebrate a good pun because it's a way to sneak in a brand mention in a clever way, in hopes that, for example, when fans think of cars, they'll think of Honda and therefore buy a Honda. What does this convey about the Honda brand, though? I know Honda for their 'Helpful Honda' brand promise, because the information booth at the arena was branded as such. Should GMC Trucks sponsor the 'Drive Summary' graphic for a football team (drive = cars, get it!?!), or is there a way to activate GMC's brand with a 'Toughest Play of the Game" to highlight the toughness they want their cars known for?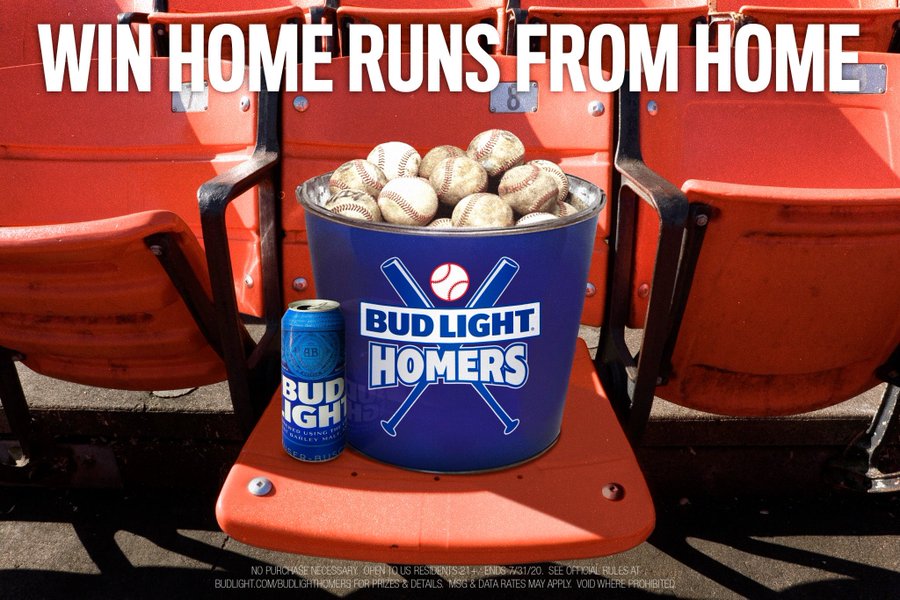 Excuse the extemporaneous example above, the goal is not create gold, but to stimulate a thought process to strive for more. To be more than puns and presented by's. To find the moments to latch on, the emotional ebbs and flows that open fans' hearts and minds, and the opportunities to insert a brand as a relevant part of the story.
Next time you're exposed to the Bud Light brand at a moment of screams and cheers -— it won't take long if you follow sports — appreciate the strength of that activation. That fans come to associate Bud Light with celebration. Achieving that is worthy of a #BudLightCelly.